WIth the ingredient amounts given below, you can make 2 x 14 inch pizzas. 1 pizza serves generously 2 people. So the recipe serves a total of 4 people. However it is possible to prepare 4 small single-serving pizzas.
The best serving time is 30 mins after removing from the oven, because the fruits take some time to cool down. After half an hour, the pizza is still nice and warm and the chocolate is still creamy and melted. A dollop of ice cream on top will take it to a whole new level, trust me.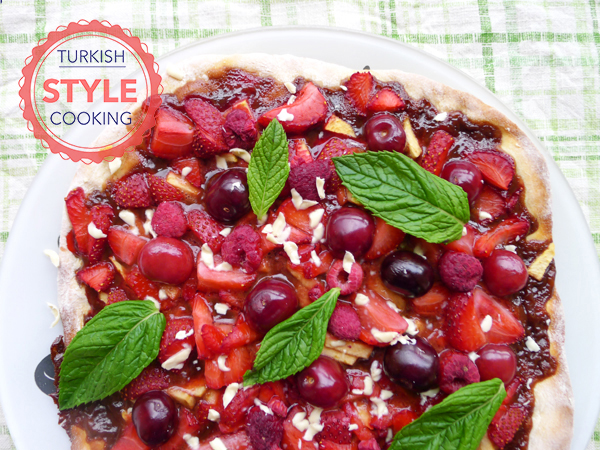 Ingredients:
1 cup flour,
1/2 cup warm water,
2 teaspoons rapid-rise yeast,
1 pinch salt,
1 tablespoon honey,
1 tablespoon olive oil,
4 tablespoon chocolate hazelnut spread (e.g. Nutella),
80 gr. chocolate,
1/4 cup milk,
Fruits (I used red berry mix and cherries),
For the top: Chocolate shavings and fresh mint leaves.
Preparation:
Mix together the flour, salt and yeast,
Make a cavity in the centre and add the honey and olive oil,
Add the water slowly and carefully while mixing with your hands,
Continue mixing until you get a soft non-sticky dough,
Cover the dough and let it rest for 45 mins,
Knead the dough for 2 mins and divide it into 2 pieces,
In a saucepan, combine the chocolate hazelnut spread, chocolate and milk, heat on low heat until everything is melted and combined, then let it cool down,
Roll one of the doughs out into the size of a large plate on a floured surface and transfer it to a baking sheet lined with parchment paper,
Smear the chocolate mixture on top,
Top it with any fruits you like,
Repeat the same for the other piece of dough,
Bake in a 200 preheated oven for 15 mins,
Once it cools down, sprinkle some chocolate shavings and fresh mint leaves on top.
Bon appétit…