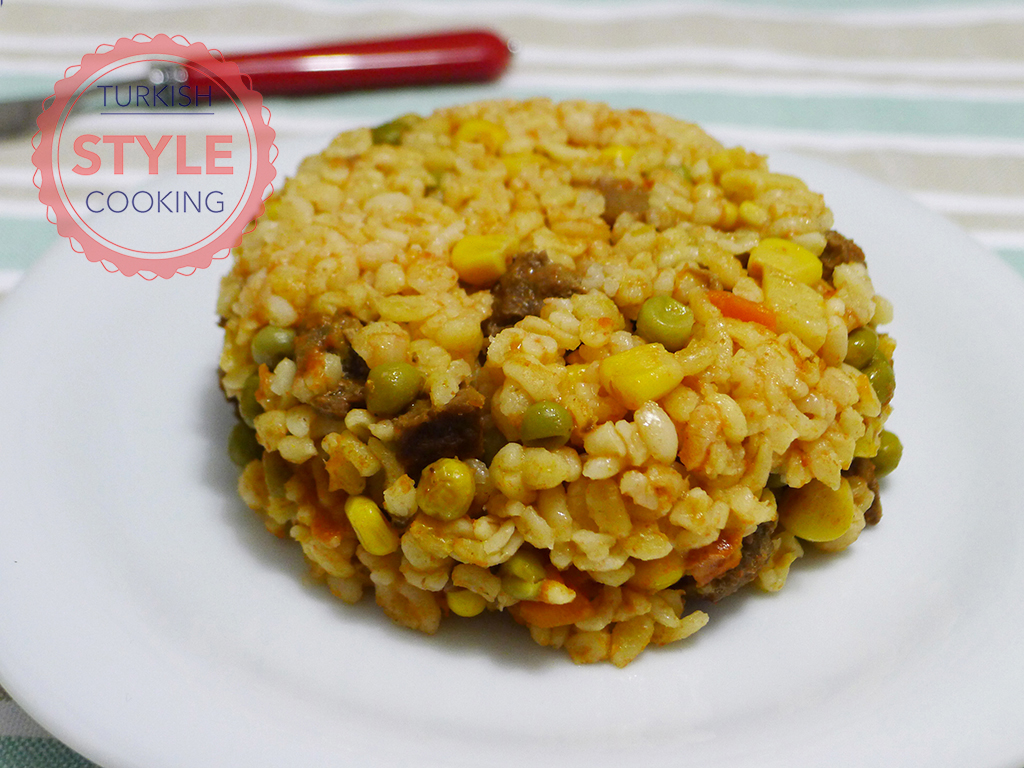 Pilaf is one of the indispensable dishes of Turkish cuisine. We mostly prefer rice pilaf I think. But according to me bulghur pilaf is more delcious and healthy. Especially if it contains yummy ingredients such as meat and vegetables. In this recipe it contains both, so it is more yummy than ever. If you like you can add any other vegetables or remove the ones you don't like very much.
If you have limited time for preparing food you can cook the meat the day before and keep in the fridge. Th eother day your meal would be ready in minutes. You can cook a grain dish beside, such as dry beans or green lentil. Even you can prepare only a salad and not cook any main dish as it is filling enough. Hope you try and like it, please don't forget to leave comments about your experiences.
Ingredients:
200 gr small beef cubes,
1 onion, chopped,
1 tbsp. butter,
2 tbsp tomato paste,
1 cup bulghur,
2 tbsp canned carrot, in cubes,
2 tbsp. canned peas,
2 tbsp. boiled potato cubes,
2 tbsp. canned corns,
2 tsp. ground red pepper,
Salt to taste,
3-4 cups hot water.
Preparation:
Take beef into a a pressure cooker,
Cook until they release and absorb the water again,
Add butter and melt,
Add chopped onions and cook for 5 mins stirring constantly,
Add tomato paste and ground red pepper and cook until smells well,
Add water and stir,
Lock the lid and cook until beef is well done ( take the recommended cooking period of your cooker into considiration),
Open the lid and add washed and drained bulghur, corns, carrots, peas, potatoes and salt (you can transfer ingredients into a smaller pan),
Close the lid and cook until bulghur is tender.
Bon appetit…